The Heritage Forge Company
Formerly 'Garton Heritage Forge'
Blacksmiths and Forgemasters
Traditional and Contemporary Bespoke Ironwork of distinction
Welcome to Living With Tradition.co.uk. This is The Heritage Forge Company Website; we are traditional English blacksmiths of the highest standard working in the traditional time-honoured ways of fashioning red hot metal on the anvil.
---
At The Heritage Forge Company we offer something rare today; we offer hand made bespoke products of distinction. Each creation we produce is as individual as the person who is ordering it. Each product has it's own character . This is because each one is hand forged and individual. This is rare in the world today as the emphasis is on quality and NOT quantity. We aim to keep the traditional skills and qualities of English blacksmithing going into the new generation by offering functional necessary items combined with a unique artistic flavour that last from generation to generation.
At our forge deep in the heart of the English countryside we take pride in our work, we like to think we are making the antiques of the future using the same techniques as our forefathers and their forefathers before them.
---
At

The Heritage Forge Company

we design, construct and manufacture Ironwork of distinction. Everything and anything metal. From steel/iron tables, chairs, weathervanes, gates, railings, curtain poles, door furniture, window furniture, right up to signs and sculpture. We are the traditional master craftsmen!!!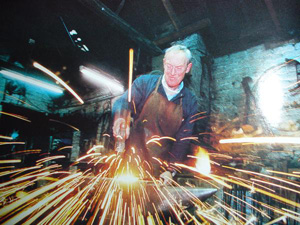 Private and business clients throughout the world commission us to carry out a vary wide variety of architectural and ornamental ironwork; from tasteful security grilles for Banks and Building Societies in historic country towns, to grand iron entrance gates for country houses; from small examples of handcrafted ironmongery such as our traditionally 'forged' Suffolk latches and traditional door hinges, to large Council projects we can accommodate them all no matter how small or large, complicated or simplistic. Because we are blacksmiths and not fabricators we can also accommodate your own individual specific specifications and designs or construct 'real' wrought ironwork to match existing works which maybe centuries old.
---
The Heritage Forge Company and the USA
At The Heritage Forge Company we welcome enquires from outside the United Kingdom. We have had great previous experiences of working with and for clients in the United States both on supplying and shipping our current products to American customers as well as working on commissions from drawings and sketches. If you are interested in some of our products and want them sending outside the UK or you are looking for the best quality craftsmanship to complete a commission please do not hesitate, send us and e-mail, we are ALWAYS pleased to help. We can arrange shipping to anywhere in the world and we can quote in US dollars where required.
Wherever you are in the world, if you are looking for the best quality ironwork look no further.
---